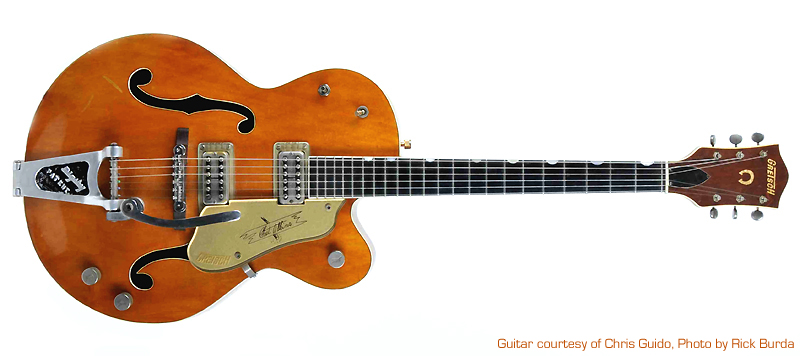 The model year 1959 is the classic and is widely considered the pinnacle of the evolution of the 6120. The 59' 6120 enjoys many fine features, famous players, and and ultimate rockabilly icon status. The early to mid year versions have the classic B6 Bigsby vibrato and are quite loud! Brian Setzer's promotion of the '59 6120 set the mark for the 6120's ressurection from relative obscurity. The '59 model year 6120 has many subtle yet significant changes to it's structure. Click on the thumbnail below to see larger image.


The 59' was made a bit lighter than the previous model year by way of structural changes made to the trestle bracing system. The tone bars on the bottom of the guitar were removed. The trestles rested on small pieces of wood.

Later batches from this model year have thinner tops which resulted in improved tone.

The bridge remain is the "bar" bridge style. Some variations of roller bridges are seen as well.


1955 1956 1957 1958 1960 1961 1962