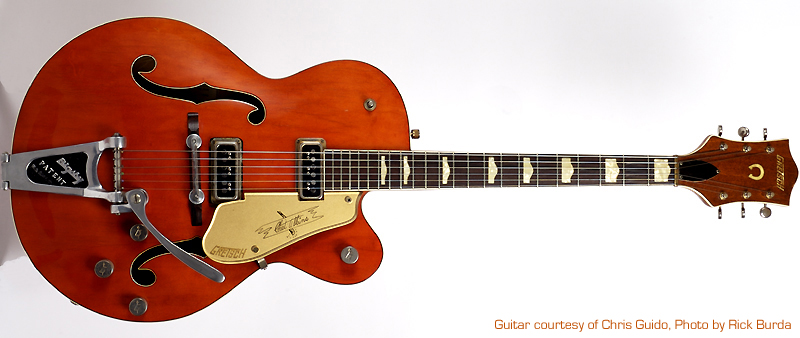 The '57 model year 6120 is notably distinguished by the introduction of "hump-block" fretboard markers. Largely considered to be the "Duane Eddy" guitar as Duane used his red 57' on all of his classic 50's recordings.

· By 1957' Gretsch was making a conscious effort to tone-down the western ornamentation on these models. You will find many 57' specimens with a very red finish compared the standard orange finish.
· Bigsby's have "spoon" style handle made of cast aluminum.
· No "G" brand on the body. (Note: some oddball 57's have surfaced with a G brand)
· These guitars also display the new (for '57) grey and orange Gretsch paper label affixed to the inside of the guitar's body, visible through the bass-side f-hole.
Duane Eddy was famous for playing a '57 model year 6120. Thanks Duane!